The geographically diverse China is home to the countless and splendid natural wonders. Blessed by different facets of nature, the country promises an unforgettable journey for the avid nature admirers. Exploration of sacred mountains, rivers, lakes, caves and waterfalls is facilitated by the guided tours and the enthusiasm of tourists to intermingle with the fascinating natural beauty. Get to know China's most popular natural wonders that are worth visiting once a lifetime.
Formed from pumice stones, the Changbai Mountain in the Jinlin Province enthralls with its white beauty. The month of August is the best time to visit this mountain which is accessible by bus and train. Changbai Natural Reserve in the area provides the opportunity to explore animal species like Siberian tigers and bears. Longwanqun National Forest Park, which accommodates a number of volcanic crater lakes, is another attraction of this place.
Part of a number of scroll paintings, the Li River stretch in Xing'an County is world-famous for its scenic stretch extended beyond 100 km. Be it the Mountain of Splendid Hues that feature beautiful colored rock layers or Reed-Flute Rock, an amazing limestone cave, the place is full of natural wonders. Elephant-Trunk Hill, Yellow Cloth Beach and many other attractions greet the visitors who can also participate in rafting, cruising and hiking adventures.
The acclaimed Jiuzhai Valley located in Sichuan Province near the Tibetan Himalayan Plateau is no less than a nature's treasure box. Multilevel waterfalls and more than 100 gorgeous calcium carbonate lakes form the essence of this valley. The lakes in particular offer irresistible beauty due to their blue, turquoise and green appearance. Spectacular views of the surrounding cliffs and snow-covered peaks are completely breathtaking.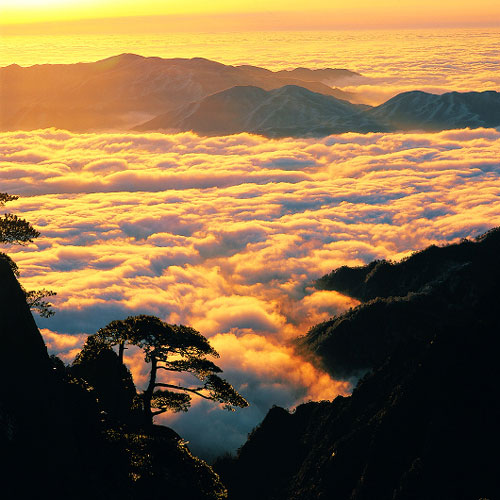 One of the most amazing natural wonders of China is the Hukou Waterfall. Formed by the Yellow River, it is the only waterfall on the planet with yellow water. It is truly captivating to watch the powerful rush of water. A mysterious stone, locally called guishi, can be seen shining below the waterfall. The rainbow formed by the mist of the rushing water adds worth to this mesmerizing site.
Also known as Tsangpo Canyon, the Yarlung Zangbo Grand Canyon is the longest and the deepest canyon in the world. The snow-capped mountains form the gripping sites for the visitors. The mysterious and spiritual appeal of this canyon makes it even more wonderful. Dense forest areas, rushing torrents and diverse ecological system adorn the area and make it a unique marvel of the planet.
Popularly referred to as the Yellow Mountain, Huangshan is worth mentioning in the list of China's top natural wonders. Sunset views and the spellbinding sights of floating clouds define the beauty of this mountain range. Painters and poets since ages have been appreciating the beauty of the granite peaks and lush green beauty of pine and cypress trees. Photographers are simply attracted to capture the unadulterated beauty of Yellow Mountain.